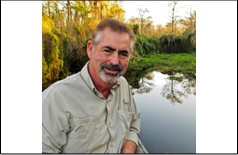 When I decided to become a serious wildlife and nature photographer, my goal was to be unique. I've always tried to photograph wildlife subjects that "say" something, that touch the viewer, or at least pique the viewer's curiosity. I also endeavor to capture the beauty and grace of the subject, and last, but not least, I want to record nature as an art form for future generations to enjoy.
I am usually on location before the sun rises. I love to capture the birth of a new day. A hawk advertising to others this is "his" territory, hearing the distant hoot of an owl, or the hammering of a woodpecker looking for breakfast - this is my studio.
By sunrise, my camera is already set up and focused on the nest. The adult male eagle flies on his first food-gathering mission of the day. The female is tending to the morning chores; discarding prior days' leftovers; tending the young; and keeping a general watch for horned owls (which tend to usurp eagle nests for their own young). If I'm lucky, I get a shot of the newborn eaglet, and maybe the male flying back with a fish. By investing my time in nature, I get a glimpse of life and creation, as God originally intended it to be. I may go months without getting the shot I am looking for, but when I capture that one shot, the feeling is almost indescribable.
To get great nature images, a photographer must research the subjects and locations. I like to scout locations before photographing. I make note of the direction of the sunrise and sunset in relation to where the subject might be. I also take into consideration the background. For birds, I observe their flight patterns. I then check the direction and the strength of the wind on the shooting day. Birds tend to land and take off with the wind in their face. If the wind is stronger that day, the birds will tend to hover above the landing site. This affords the photographer the opportunity to capture a bird with a full wing-span.
Knowing the subject and its habits are also important. Typical Florida birds (such as egrets, herons, osprey, and owls) nest from December to March. This knowledge affords the photographer the opportunity for photographing the birds' mating rituals - from courtship through building the nest, and finally the young fledging the nest.
This research allows me to compose the image in a way that will, hopefully, result in a work of art. I strive to capture an image that will entice the viewer to vicariously travel with me, and feel the same excitement and amazement I had when capturing the image.
"Study nature, love nature, stay close to nature. It will never fail you." Frank Lloyd Wright
Bob's works has also been displayed at Com-Center Gallery, Lakewood Ranch, FL; Longboat Key Art Center; Art Center Manatee, Bradenton, FL; and numerous Fine Art Shows throughout Florida.
Biography and Other Information
What you should know
CURRENT EQUIPMENT:
Canon 5D III / 7D Bodies
Canon 24-105 F 4.0
Sigma 20-400mm F4.5-5.6 Lens
Sigma 100mm Macro f 2.8
Canon 430EX Flash
Misc other equipment
PUBLISHED / GALLERIES / AWARDS:
Contributing Columnist - East County Observer
South Florida Museum, Bradenton, Florida
Patron Award Sun City
1st place Port Charlotte Fine Art Show
FAVORITE PHOTOGRAPHY SPOT:
Bradenton Rookery
Sarasota Rookery
Florida Everglades
Costa Rica
Yellowstone
The Great Smoky Mountains
contact information:
Phone: 941.302.0707
Photography Workshops, Photo Boat and Photography Adventures are a division of
Bob Salyers LLC
Copyright © 2012, 2013, 2014, 2015 BOB SALYERS LLC.
Ownership of copyright
The copyright in this website and the material on this website (including without limitation the text, computer code, artwork, photographs, images, music, audio material, video material and audio-visual material on this website) is owned by Bob Salyers LLC